Cutdown II – Valued Performance
With a family of problem solving products, CUTDOWN II may be the most impressive. DEPENDABLE offers a wide variety of products to solve substrate problems, but for the overall value, CUTDOWN II provides an especially economical and often "low prep" barrier for moisture, moderate alkalinity (11 pH), OR adhesive residue bleed or interference with bond of new coverings.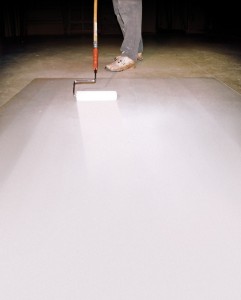 PERFORMANCE CAPABILITIES
CUTDOWN II may be used to solve one of two problems:
Moisture
Adhesive Residue
Cutback residue may be covered by Cutdown II where also treating moisture if it is then covered by at least 1/4 inch of Dependable Self Leveler. Since it can not penetrate into the concrete, CUTDOWN must not be used for moisture control when other latex adhesive residues are present. Existing adhesives should be well bonded to substrate. Aggressively scrape surface to remove all possible material and high spots. NOTE: Do not scrape adhesives containing as
To treat or isolate adhesive residue, 2 coats are required.
To treat for moisture, 2 options are available:
1. Apply 2 coats to provide protection to 8 lbs. (Calcium Chloride Test, ASTM F1869), 85% RH (Probe Test, ASTM F2170), and pH of 11.
2. Apply the 3 coat system to provide protection to 15 lbs., 90% RH, and pH of 11.
 SURFACE PREPARATION
When treating for moisture, most installations require a clean, solid, absorptive concrete surface.
Clean – Remove any contaminant that would inhibit penetration & bond, such as paint overspray, drywall mud and dust, dirt, debris, dust, etc.
Solid – The concrete must be of good quality with a hard, dust free surface. Be watchful of those slabs that are soft & dusty.
CUTDOWN II is not designed as a concrete hardener so it will not help solidify / strengthen a soft, dusty surface. We should be especially aware of those slabs poured without proper curing or in conditions that prematurely pull moisture out of the concrete (not allowing proper hydration). Outside placement without proper protection or placing in temporary heated buildings without
proper ventilation during cold temperatures are examples of conditions where moisture is pulled from the concrete too quickly.
Absorptive – Conduct a water drop test. Place dime sized drops of water in several areas.
Water should penetrate in 30 seconds. If water beads it is not ready for the CUTDOWN II installation. There could be a sealer or curing membrane in or on the concrete. Identify the product and select the proper removal method. If the product cannot be identified, a core should be taken to identify the type of product and its depth of penetration. If the concrete received a very tight finish, absorption may be limited. The concrete must be opened to receive the treatment.
Mechanical preparation is recommended. Scarifying, grinding or shot blasting may be considered to achieve the proper surface.
From time to time the concrete may be very porous. In this case the CUTDOWN II might dry too quickly not creating a proper coat or film. In these cases, pre-dampening the slab with water will help. Pre-dampening may be accomplished by mop, broom or sprayer. The concrete should be dark without any standing water. This will allow the product to dry at the proper rate.
INSTALLATION
 CUTDOWN II is rolled on to the substrate wit a 3/8" shed free nap roller. An even consistent coat is recommended so as to achieve proper coverage and thickness without excessive ridging at overlap areas.
2 Coat Application – When installing 2 coats, the first is applied with an approximate rate of 200 square feet per gallon varies depending upon the porosity of the concrete). The second coat is applied 2 – 3 hours later in a perpendicular direction with a rate of 350 square feet per gallon.
3 Coat Application – When installing 3 coats, the first is applied with an approximate coverage rate of 160 square feet per gallon. This is a heavy coat so we recommend a double wet coat. This means apply the product to the surface, allowing it to absorb. Once a width of about 5 – 10 feet is coated, re-apply the product to the area in the same direction. Once this first treatment is
complete, wait 2 – 3 hours to apply the 2nd treatment. The second treatment is applied with a rate of 350 square feet per gallon – a double wet coat is not needed. Wait 2 – 3 hours for the final treatment with a rate of 350 square feet per gallon – again a double wet coat is not needed.
GETTING READY FOR FLOOR COVERING
CUTDOWN II should be allowed to dry for at least 24 hours before any other material is applied. However, we recommend applying the next treatment in a quick fashion. CUTDOWN II is not designed as a wear layer. It could be damaged under traffic. Although it does not leave a tacky feel, CUTDOWN II allows material to readily bond to its surface. Therefore, it should be protected from construction traffic or debris and covered before any type of contaminant collects on its surface.
CUTDOWN II will leave a pretty smooth profile, however, the texture required will depend upon the floor covering and the condition of the substrate. Many adhesives, designed for application over a non-porous surface, bond very well to the CUTDOWN II. If a porous substrate is needed, a cementitious layer should be installed. If there is some concern a test area should be installed. For adhered ("glue down") wood floors, prior shot blasting is always required and an adhesive used that will assure holding the floor against movement during expansion and shrinking.
If, however, smoothing needs to be done, it should be done on top of the CUTDOWN II. To complete the warranty, we recommend use of DEPENDABLE products:
Patch: SKIMCRETE XL or SKIMCOAT mixed with WHITE LATEX LIQUID
Self Level: SKIMFLOW ES, or SKIMFLOW HIGH PERFORMACNE