Do you need to get your floor quickly leveled and prepared for its floor covering? Self-leveling underlayments are the way to achieve this. Self-levelers are found to be a convenient, time saving and cost effective solution for getting a clean, leveled floor. Self-levelers may be used over a variety of substrates including plywood and concrete to name a few.
When a job calls for a cementitious self-leveler Dependable has a solution with our Skimflow® ES. Dependable's Skimflow® ES is a modern formula Portland and Aluminate cement that is fortified with latex polymer. Skimflow® ES can be applied at a minimum thickness of 1/8" and a max thickness of 1-1/2" per layer. It can be pumped or poured and provides a compressive strength of  4100 psi.  Skimflow® ES may be applied over plywood once it is primed and a lath is installed and it may be used over structurally sound concrete when primed with Primer SL. Through testing Dependable's Skimflow® ES is found to work well as a light duty wear surface.  Skimflow® ES can withstand normal foot traffic for one to two years with out significant wear. It however cannot withstand heavy use. Skimflow® ES is gray in color and comes in 55 lb. double wall bag.
Never underestimate the need of a properly prepared floor.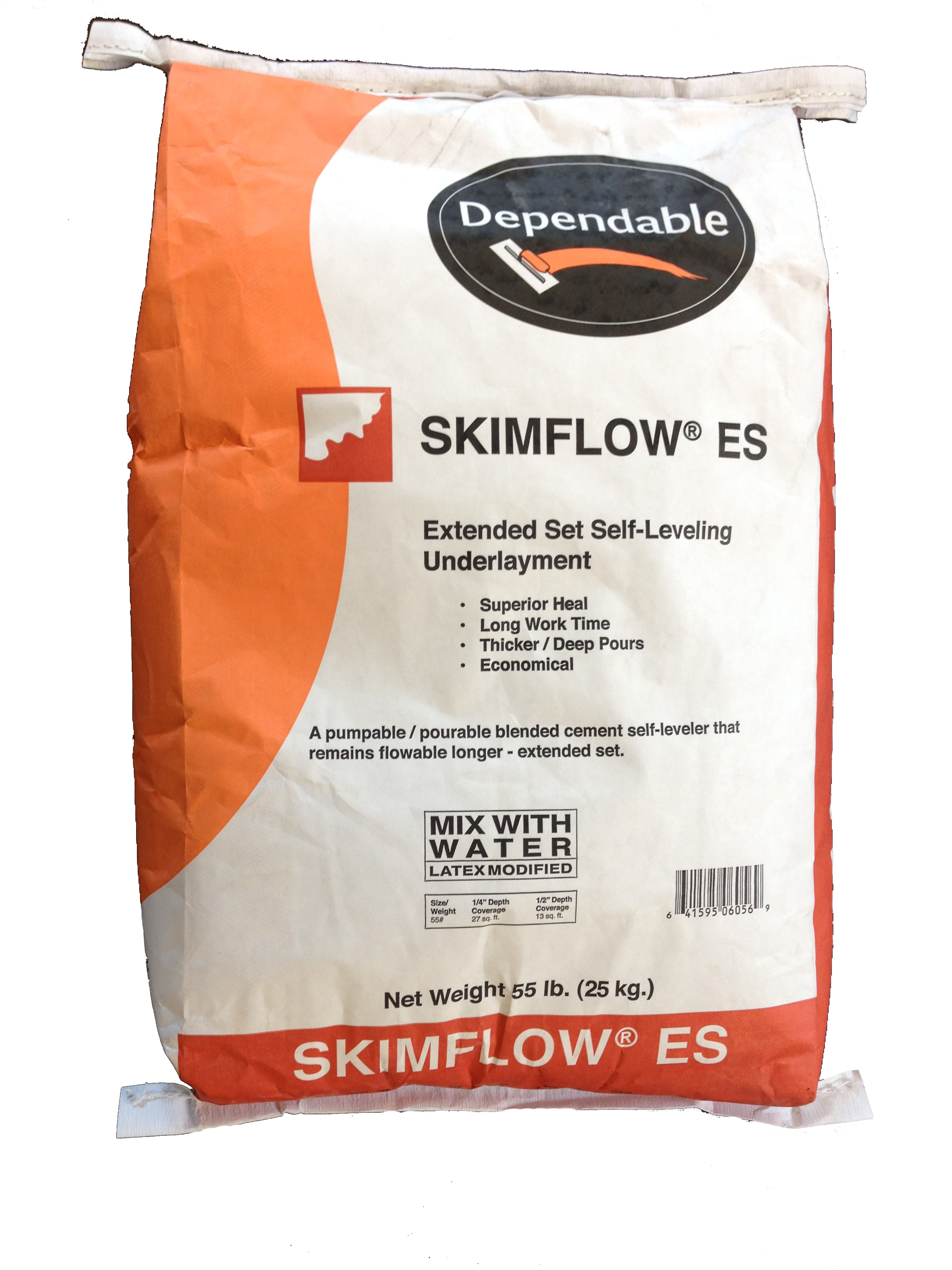 "Since 1992 I have used self-leveling underlayments from many manufacturers. I feel Dependable's Skimflow® ES provides a great healing and flow characteristics while still providing a hard surface after curing with no dusting. The competitive price point will assist me in being awarded more projects in the future."
Michael Jackson
Quality Control Manager ComCrete Inc.,  Washington, USA
For more information about Skimflow® ES click here:
https://www.floorprep.com/wp-content/uploads/2013/10/Skimflow-ES-Data-Sheet.pdf