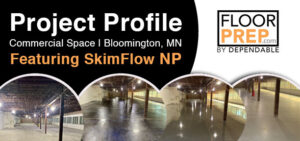 Pour Perfect, LLC is the Twin Cities' leader in sub-floor leveling, moisture
mitigation and flooring underlayment solutions for residential, commercial
and industrial applications with over 40 years of experience! The team,
Steve Schluck and Andrew Herrmann, has adequate experience in
their pre-flooring fabrication company offering moisture mitigation and
underlayment installation services in the Twin Cities Metro, Minnesota and
the Upper Midwest.
When a commercial property came to Pour Perfect, LCC needing to
prepare the floors for the new carpet tiles to be installed into their renovated
office spaces, Pour Perfect turned to FloorPrep.com underlayment
SkimFlow® NP, with its suitability for finished flooring, such as carpet.
NP offers flowability, excellent heal, and a robust character granting the
installer peace of mind while providing a smooth, flat surface for demanding
finished flooring projects.
Unlike other fast-track technologies, NP eliminates shrinkage, removing the
need to mechanically profile the floor prior to installation, which was useful
for a project this size (almost 20,000 square feet). Unlike traditional gypsum
systems, SkimFlow® NP dries quickly to keep time sensitive commercial
applications on schedule.
SKIMFLOW® NP (No Problem) is a hybrid cement self-leveling
underlayment designed for time-sensitive projects, where compromised
substrates make shrinkage undesirable. NP offers no-shrink,
no-profile, technology to fast-track jobs, without sacrificing performance.
To see the complete project profile, click here.