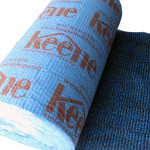 What is Keene Building Products Quiet Qurl and how does it fall in with Dependable's products?
Keene's Quiet Qurl® is a noise control product designed for use with gypsum. Dependable's gypsum products and Quiet Qurl® together provide a one source sound and floor system for multi-family construction.
How does Quiet Qurl® work?
These products work in construction projects such as multi-family apartments and condominiums to dramatically reduce impact and airborne noise.
Quiet Qurl® products have been installed in every part of North America. This innovative PRODUCT LINE offers solutions in different thicknesses for code-driven performance needs. Quiet Qurl® systems are available from 0.125" to 0.75" with options, including:
moisture control fabric top (MC)
a new reinforced separation layer for thin pours (RF)
a new muffling technology enhancement (MT) option for high performance in a quarter inch
a new fast track system (FT) decreasing gypsum drying time for project fast tracking
All are designed for use with underlayments such as gypsum concrete and lightweight concrete.
For more information on Quiet Qurl® click here!