Posted By: Floor Prep Team
Tags:
concrete floor
,
Floor Failure
,
Floor Preparation
,
Floor Products
,
self drying
,
Self Levelers
,
Self-Leveler
,
skimflow
,
skimflow np
,
Substrate Preparation
,
Successful Installation
,
Uncategorized
,
Underlayment
Comments: 0
Remodeling historic structures into apartment living spaces turns eye sores into fantastic new living spaces and reinvigorates communities. A critical update includes renovating and updating the flooring with modern finishes. Flooring updates in the multi-family apartment space can can present a daunting challenge due to compromised gypsum substrates.
The situation becomes more common every year: old gypsum poured years ago in need of repair or replacement. Unfortunately, gypsum concrete represents quite a different challenge than old wood and concrete substrates and requires unique solutions.
The Sound Solution
We encounter the pictured substrate below frequently and know exactly how to treat deteriorated gypsum concrete. Gypsum substrates with light surface dusting are no problem to fix, the trick is choosing the right products for the scenario. For old gypsum with light surface dusting, FloorPrep.com recommends our Primer A consolidating acrylic primer, and our Skimflow® LCB (Liquid Cement Board).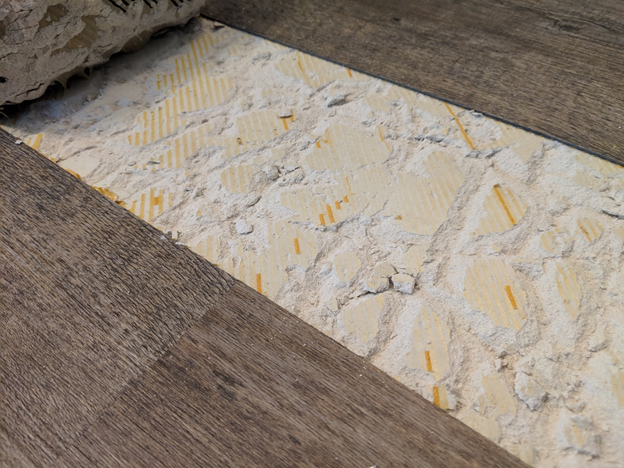 Step 1: Prime the Floor
The first step is to consolidate the dusty gypsum slab into a suitable substrate. When faced with old gypsum slabs, FloorPrep.com recommends you first dilute the primer, and apply several coats (reference the Primer A data sheet). Dilute Primer A for the first coat, occasionally as high as 10 parts water to 1-part primer. This ensure the surface stays wet long enough to dray the polymer in the primer into the gypsum substrate. Subsequent coats of primer at lesser dilution (6:1, 3:1) will seal the slab for application of a fresh underlayment.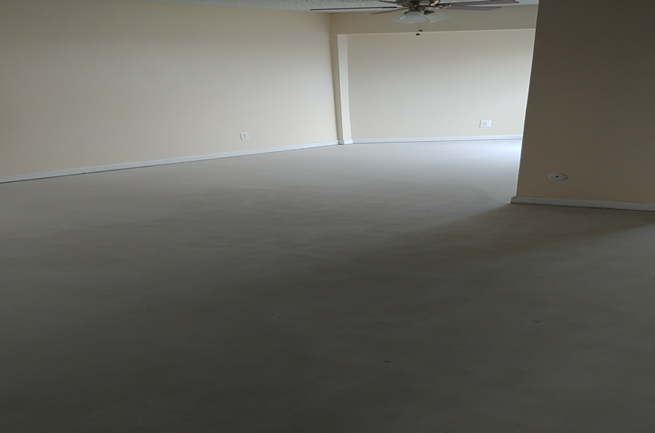 Step 2: Pour Skimflow LCB
Once the floor is properly primed, it is ready for leveling and repair. Skimflow LCB is a high flow solution, reinforced with fibers to ensure structural integrity. Reference the Skimflow LCB data sheet for application instructions – in any case, the product is designed for novices and embraced by professionals for its ease of use, superior finish and durability. Once LCB is dry, your floor is perfect for a wide variety of flooring finishes.
Repairing over Replacement
Traditionally multifamily apartments required a tear out of the dilapidated gypsum concrete, and a replacement with new materials. Repairing the gypsum concrete offers several benefits over replacement:
Time – Repairing the gypsum greatly reduces to turn around time of the apartment. A tear out requires expensive and lengthy prep, along with a minimum of fourteen days of dry time to allow new flooring. Skimflow LCB can be ready for new flooring as early as the next day, all while requiring less preparation and demolition.
Cost – Gypsum concrete installations require a minimum of ¾" of material, which costs more in raw materials and labor.
Regulations – Tearing out gypsum concrete is a dusty and laborious endeavor. This causes potential issues with respirable silica, along with disposal of the concrete.
Recap
FloorPrep.com's gypsum repair products offer superior, and speedy solutions to turn around multifamily apartments. These solutions offer:
Cement Compatibility with existing gypsum floors
Greatest Compatibility with existing fire ratings
Cost effective, rapid turn around of repairs
Sound, durable subfloor for this and the next generation of flooring finishes
Skimflow LCB & Primer A a simple, durable and cost effective solution for your Gypsum subfloor repair!