Dependable Floor Prep is pleased to offer PrepPro Feather, an exciting new skim coat and patch product.
PrepPro Feather is a latex modified, fine textured, trowel applied, rapid drying cementitious underlayment for interior use.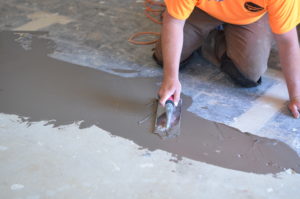 It provides a smooth, durable surface for the installation of a variety of floor finishes such as vinyl, carpet, engineered wood or tile. PrepPro Feather reduces application efforts because it requires only the addition of water and mixes to a creamy consistency that is troweled with minimal effort to smooth imperfections in a variety of substrates prior to application of floor finishes.
It dries rapidly, permitting the installation of floor coverings in as little as 30 minutes.
Fast, Smooth and Easy to apply!
*Only Available in 10 lb (4.5 kg) double wall bag*