Dependable Floor Prep is pleased to offer PrepPro Feather, an exciting new skim coat and patch product.
PrepPro Feather is a latex modified, fine textured, trowel applied, rapid drying cementitious underlayment for interior use.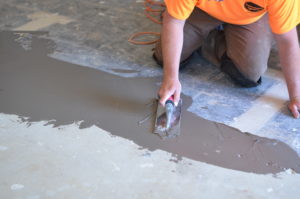 It provides a smooth, durable surface for the installation of a variety of floor finishes such as vinyl, carpet, engineered wood or tile. PrepPro Feather reduces application efforts because it requires only the addition of water and mixes to a creamy consistency that is troweled with minimal effort to smooth imperfections in a variety of substrates prior to application of floor finishes.
It dries rapidly, permitting the installation of floor coverings in as little as 30 minutes.
Fast, Smooth and Easy to apply!
Why You Need Floor Prep
If your floors have holes, dips or any type of imperfections, then a floor patch can help you repair them. Cracks and holes can appear on the floors for various reasons and can ruin the aesthetic appeal of the floor. A small damage visible in concrete, vinyl and plywood floors can make it look less than perfect. A floor patch is one of the best ways to repair the dips and cracks hassle-free.
Floor imperfections are common in old floors. With a high-quality floor patch product, you can easily make your old and inefficient floor good once again. It is a perfect solution for all type of floor renovation needs. You can use it to prepare the floor before using the flooring products. It is one of the easiest ways to fix small floor issues and imperfection. This will also save time and effort.
Using floor patch is easy and time-efficient task that ensures that you get a smooth and perfect floor once again. Using high-quality floor patch products like the PrepPro Feather ensures a safe and efficient solution you can trust. It offers an easy and effortless solution without damaging the floor materials. Our floor prep product is designed to provide a quick solution for all types of floor surfaces.
Floor patch is also important for creating a smooth surface for flooring purposes. Use the floor patch product to fix the problems of cracks and dips before applying products like the epoxy floor coating or colors. This will ensure that the floor looks even and perfect. The floor patch is designed to last for a long time and will ensure that your floor looks perfect.
It is important to use high-quality floor patch like the PrepPro Feather to get the desired results without causing any damage.
*Only Available in 10 lb (4.5 kg) double wall bag*