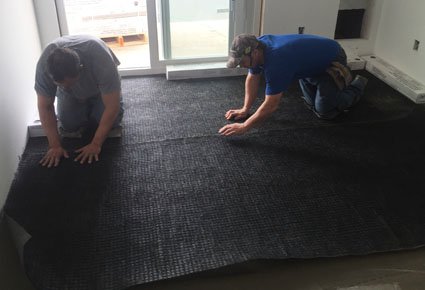 Put-In-Bay, Ohio, a two by four mile island in the middle of Lake Erie is the place to be during the hot summer months. With an endless list of activities, you'll always have something to do on the island! Spend a day boating on the lake, grab a bite to eat at one of the many popular restaurants, check out the exciting nightlife, or explore the beautiful scenery!
Because Put-In-Bay is such a popular summer destination, finding a place to stay isn't always easy. More and more homes, condos, and hotels are being built every year to accommodate the large amount of guests that visit the island.
A recent project for a group of condominiums, which feature one and two bedroom floor plans, started production in late 2015. When installing the tiles for the condos, the developer decided to incorporate Dependable's KeedeRoll™ 100 into the plans.
KeedeRoll™ 100 is an entangled net uncoupling mat designed for natural stone and ceramic tile installations. The purpose of KeedeRoll™ is to keep tiles isolated and prevent any cracks or transfers from occurring.
It works by absorbing subfloor movements and reinforcing mortar; while the fabric allows for shearing movement to take place by separating the subfloor from the tile. By installing KeedeRoll™ 100, the developer was able to ensure the tiles durability for years to come!