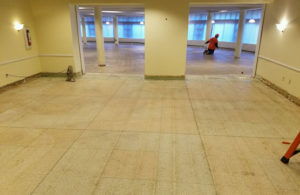 Located on a beautiful 83 acre property close to the heart of Washington DC, is a Government owned building that required some work. Most of the centers revenue is generated as a conference center, even as the facility functions as a training center for its employees.
A recent renovation required new flooring in the 5,500 sq ft cafeteria areas.  Once existing floor finishes were removed, it was apparent the substrate was very uneven, and the primary flooring contractor was asked to level the floor prior to the application of LVT and carpet tile.
Dependable's SKIMFLOW® HPI with PRIMER SL™ was chosen for its ability to lay smooth and flat with ease. SKIMFLOW® HPI is a engineered cement self-leveling underlayment for use over interior surfaces. SKIMFLOW® HPI can be pumped or poured and delivers high strength, good water resistance and outstanding adhesion.
Required prior to the installation of SKIMFLOW® HPI is another Dependable product known as PRIMER SL™. PRIMER SL™ is a re-emulsifiable latex based primer compatible with the latex in Dependable's self leveling  underlayments and toppings used to prepare interior floors.  The product must sit for 2-24 hours to dry and become tacky before SKIMFLOW® HPI can be poured over top of the product for maximum bond.
The job was performed quickly, and the subsequent flooring installation went particularly well given the smooth, sound surface that the flooring contractor was working on.
With the combination of Dependable's PRIMER SL™, and SKIMFLOW® HPI products, the floors are properly prepared and ready for the final floor covering installation.