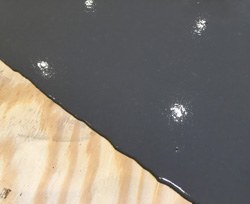 One of the most popular things to do in Pittsburgh, Pennsylvania is to shop, so when a brand new shopping store was in the the works, it was important to make sure everything was done perfectly.  One aspect that needed to be perfected was flat and leveled floors.  After doing some research on self levelers, a decision was made to use Dependable's SKIMFLOW® TT.
SKIMFLOW® TT (Traffic Topping) is a cementitious, self-leveling wear resistant topping designed for interior structural floors. SKIMFLOW® TT is a blend of hydraulic cements and is rated as a traffic grade topping.  One of its best features is that it can accept foot traffic in as little as 4 hours for rapid turn around and can be polished in as little as 36 hours. This was key  when making sure the project was done on time.
Required prior to the installation of SKIMFLOW® TT is another Dependable product known as PRIMER SL™. PRIMER SL™ is a re-emulsifiable latex based primer compatible with the latex in Dependable's self leveling underlayments and toppings used to prepare interior floors.  The product must sit for 2-24 hours to dry and become tacky before SKIMFLOW® TT can be poured over top of the product for maximum bond.
With the combination of Dependable's Primer SL™, and Skimflow® TT products the floors are properly prepared and ready for the final floor covering installation.
Profile Retail Store Skimflow TT