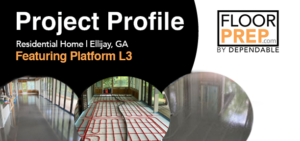 All American Surfaces self leveling, moisture mitigation and decorative concrete solutions are built on over 40 years of Rich and son Ryan Kroko's subfloor expertise. The Kroko's expertise has not gone unnoticed in the Atlanta market and as a result All American Surfaces South find themselves the "go to" contractors for a number of satisfied commercial clients. When Ryan was approached by a homeowner living well outside the city, he realized that while not their typical project, he had the right solution in mind.
The owners of the home in Ellijay, Georgia had purchased a hydronic radiant heating system to turn their outside patio into a sunroom, and needed an appropriate leveling course to encapsulate the coils and provide the basis for the finished flooring.
All American Surfaces turned to Platform's Synthecem powered underlayment, L3. Platform L3's Synthecem cement technology provides the exceptional volume stability required for this application over the radiant floor heating system. FloorPrep.com's local solutions expert verified the suitability of the installation and recommended priming the High Density EPS foam with Platform's Primer P360 to provide maximum bond.
Platform P360 is suitable for a wide variety of porous and non-porous substrates making it the only required primer in typical self-leveling underlayments (SLU) installations. Designed with installers in mind, low odor P360 offers maximum versatility, with low-VOCs, fast drying, tremendous coverage and easy handling.
Platform L3 is premium, high flow, high strength self-leveling underlayment for flat smooth floors. Its smooth, flat and hard surface makes it suitable for vinyl, LVT, carpet, engineered wood, ceramic and more.
To see the complete project profile, click here.