SKIMCRETE XL® is Dependable's tried and true cementitious skimcoat and floor patch. Many installers love the installation and final characteristics of the XL. Today we are pleased to announce tweaks to this solid product.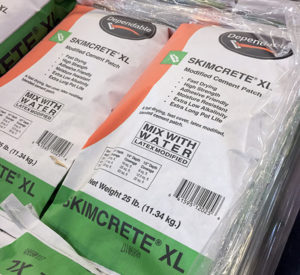 The new SKIMCRETE XL formula includes:
IMPROVED trowelability and workability characteristics. SKIMCRETE XL is now smoother and easier to install than ever before.
ENHANCED bondability. The XL always bonded well to substrates, but we have enhanced the durability and sand-ability of the SKIMCRETE XL to improve surface finish.
INCREASED pot life. The XL's pot life has been extended to allow for better working time to ensure the proper finish of your floor.
Dependable's SKIMCRETE XL is a superior and economical solution to repairing and leveling: concrete, wood, and other substrates.  SKIMCRETE XL will provide an excellent level subfloor for nearly any floor covering and is a great solution for interior commercial, residential, and institutional environments.  Try out the improved SKIMCRETE XL today, and feel the enhanced product for yourself!